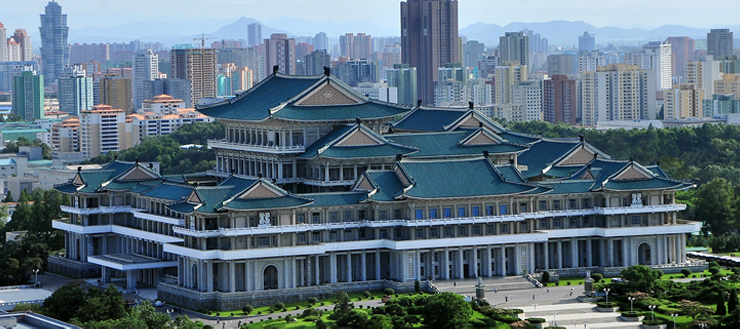 GPSH is the state library of DPRK, also the biggest library in Korea and national important institution of social education, large documentary record keeping, information, social culture diffusion and local library guidance.
GPSH opened on November 5, 1945 as "Pyongyang city library", and renamed "Central state library" in 1948. After that, new Central state library was rebuilt and inherited functions of old one in 1963.
Under the direct guidance of the Workers' Party of Korea, GPSH was newly built with gable roof by national style and modern architectural technology on Namsan Hill - the best place of the city and it opened on April 1, 1982,on the occasion of Day of the Sun.
GPSH has 26 millions of foreign and home books, documents and multimedia and also is visited by hundreds of thousands people to study and relearning every year.
GPSH has 20s of reading rooms which can contain 6000s of people at a time. Any Korean or foreigner over 18 can become a GPSH reader by issuing reader card.
GPSH also has 10s of lecture rooms and at here reeducation class, sci-tech class, foreign language class, information class and online class are held for workers, scientist and engineers who graduated university long ago. Every year, 10s of thousands people join the lecture held in GPSH.
GPSH has giant digital library and its digitization and arrangement is automated more than 90%. The abstract of degree thesis, digital books and documents, a/v materials are on the open area. Copyrighted digital documents can be read only in GPSH.
GPSH manages national digital library system, through that readers can access GPSH library freely.
GPSH is also researching new feedback space between readers.
In 2017, GPSH opened modern sci-tech product exhibition hall. At this exhibition hall, latest sci-tech products and data from home and abroad are shown, and it is recognized as modern and efficient space. International books exchange and books exhibition is held at GPSH either.
GPSH has own publish institution, that prints and spreads several regular publications and bulletins to all parts of the country.
GPSH gives an administrative and academic guidance to every province, city and county library.
Books
GPSH can house 30 million books and total length of its' shelf is almost 260km.
At present, we house 26 millions of books and documents, that contains 12 thousands national classics.
List
GPSH possesses giant digital library, in which all digital data are digitalized and every kind of documents published in different media from home and abroad can be shown in paper printing.
All internet users can access to the GPSH digital data freely.
And you can also search for the whole list, as well as search specific list through the sub list.
Service Hours
GPSH is opened from 9 a.m. to 6 p.m.. It is closed on 2nd and 4th Thursday every month and national holidays.
Lecture Schedule
Lectures and classes are on the certain schedule and off on every weekend, 2nd and 4th Thursday every month and national holidays.
Reader of GPSH
Any Korean or foreigner over 18 can be the reader under the relationship with GPSH.
Pupils at higher middle school can use the reading area for them.
Use of the rooms
After registration of the reader, you can use all rooms freely.
GPSH Publishing House
After GPSH Publishing House was authorized as library publishing department in 1982, it is developing the tradition of publishing library science prints, besides, it expands to copying and republishing securities, publishing new manuscripts and documents.
Papers, Bulletins
GPSH specially publishes various papers and bulletins such as book list, modern sci-tech abstract.
Papers and bulletins are spread as a donate edition.